Description
Mercedes-Benz C-Class OEM Integrated Backup Camera System
The FMC-C-Class systems package is a high definition rear view camera and video integration module for your vehicle with or without Navigation. The video interface connects through a simple plug and play OEM Integrated LVDS connection to the factory screen. The FMC-C-Class Interface Module has a dedicated rear view camera input that will automatically trigger when in reverse and revert back when in park or drive all using your OEM screen to display the backup camera feed. Along with a dedicated rear camera input, the FMC-C-Class system also has 3 additional AV inputs should you decide to add a front camera (manual trigger or automatic trigger), DVD Player, TV Tuner or any external video source with AV inputs. This system is an OEM integration package that maintains your factory set up while upgrading your vehicle with full Multimedia Video Integration. Once installed, the system is ready for use without any dealer activation or coding required.
System Highlight Notes*
NTG2 / NTG3  (Picture in Picture) Function
NTG4 / NTG5 Video Interface Module Contains (Dynamic Parking Lines) – Parking Assistance System

Dynamic Parking Lines Shown (NTG4 and up)


Mercedes-Benz C-Class System Compatibility
   Model
  Model Year
Interface System
C-Class
2004-2008
NTG2 (W203
C-Class
2009-2010
NTG3 (w/ Sqaure Connector)

C-Class

C-Class

2011-2014

2015 +

NTG4 + (W204)

NTG5 + (W222)


Mercedes-Benz C-Class Interface Module Features

Input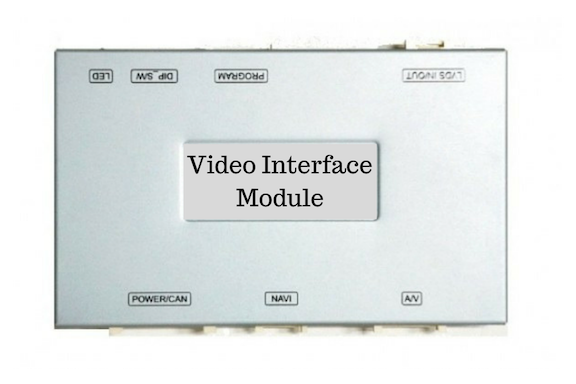 Plug & Play installation by LVDS cable
1 x Dedicated Rear-View Camera input
3 x A/V Inputs
1 x LCD input
Output
3 x Audio output
1 x LCD output
Factory button function & provided remote control
Power
Input power : 8V DC – 24V DC
Consumption : 12W, Max
Board dimension
Mercedes-Benz C-Class Flush Mount Backup Camera Features
Features
OEM Style Backup Camera
Flush Mount Camera
Vivid Color High Resolution
170° Wide Angle View
Parking Guide Lines Option (ON / OFF)
Waterproof Ip68
Shockproof
Simple Installation
Specifications
155° Off Axis View Cone
IP69K Waterproof Certified (Can Handle Direct High Pressure Spray and Not Leak)
UV Protected and Waterproof Cabling
0.1 LUX Rating for Optimal Low-light Performance
32° to 160° Temp Performance Rating
Quick Connect/Disconnect
Optional Parking Lines ON/OFF
Optional Mirror Image ON/OFF
Water Deterrent Gasket (Provided for Sealed Mount to Vehicle Surface)
Mercedes-Benz C-Class Integrated Backup Camera System Package Content
Mercedes-Benz Video Interface Module
Factory Integrated LCD Cable
Factory Integrated LVDS Cable
Sub-Board
Power Harness
AV Harness
IR Cable
Mode Cable
Remote Control
Flush Mount Camera
Camera Power Harness
Camera RCA Extension Cable
Camera Screw Set
Installation Guide

Please note package content may differ depending on vehicle year and camera option.